Sparton Nocturne




The Sparton Nocturne is one of the most coveted radios among collectors. Not the most powerful radio but no slouch in that department either, the Nocturne is Art Deco at the highest level. Designed by Walter Dorwin Teague, it was called "the ultimate icon of modernity, one dramatically ahead of it's time" by Alastair Duncan in his 1998 book entitled Modernism.


When it was unveiled in September, 1935 (for the 1936 Model year) along with three other Teague designs, Sparton advertised the Nocturne as "A vision in Midnight Blue Crystal Mirror Glass and Satin Chrome." Reflections in the mirror are tinted by the "Midnight Blue" glass and the name Nocturne was likely derived using it's artistic meaning, "evocative of night".


A secret until it was unveiled, ads like these were used to build public curiosity and excitement about the Nocturne and other Walter Dorwin Teague designs.
Click on the images below to see and read more about this fabulous radio.

The 1937 Sparton Catalog that has been copied and circulated has errors (the errors were in the original) in that the titles on the Nocturne and the Triolian Deluxe pages are incorrect. The Nocturne is easily recognizable but the mislabeling has given the impression that there was also a wooden Nocturne. Such was not the case. The Triolian Deluxe (Model 1476) was also a Teague design released in September of 1935 at the same time as the Nocturne but was not a Nocturne and the Nocturne was not a Triolian (three speakers). It was a simple mistake which was not uncommon in the advertising of the period, which I note and show other examples of on the Bluebird page of the site.



Incorrect ads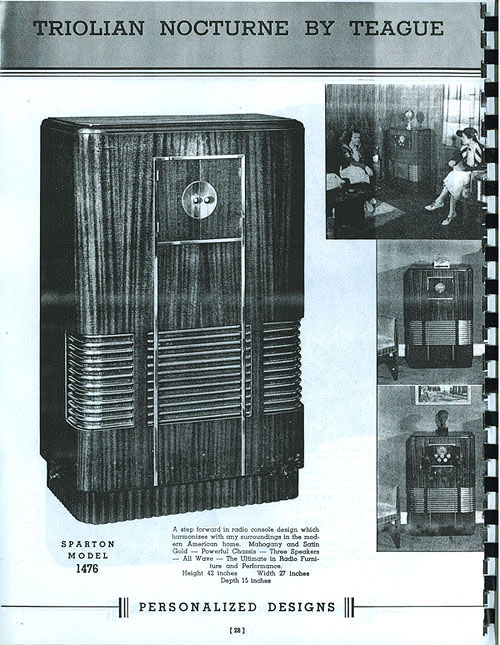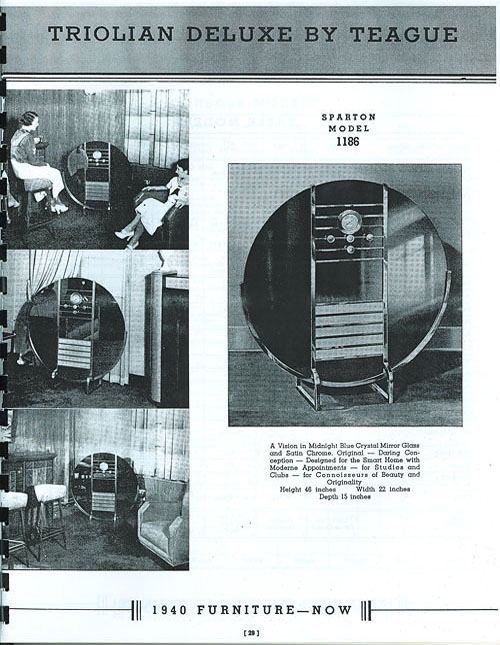 Correct Ad from a brochure distributed at an October, 1935 Radio show.